Post by Erik Sørensen on May 26, 2011 16:27:12 GMT -5
His little whispers. Love me. Love me. That's all I ask for. Love me. Love me.



►►Erik Sørensen
[/u][/size]
Nation ►
The Kingdom of Norway / Kongeriket Norge
Human Name ►
Erik Sørensen
Age ►
Appears to be around 23-25 but is roughly 1000-something years old.
Gender ►
Male
Species ►
Nøkk (Norwegian Kelpie)
Description ►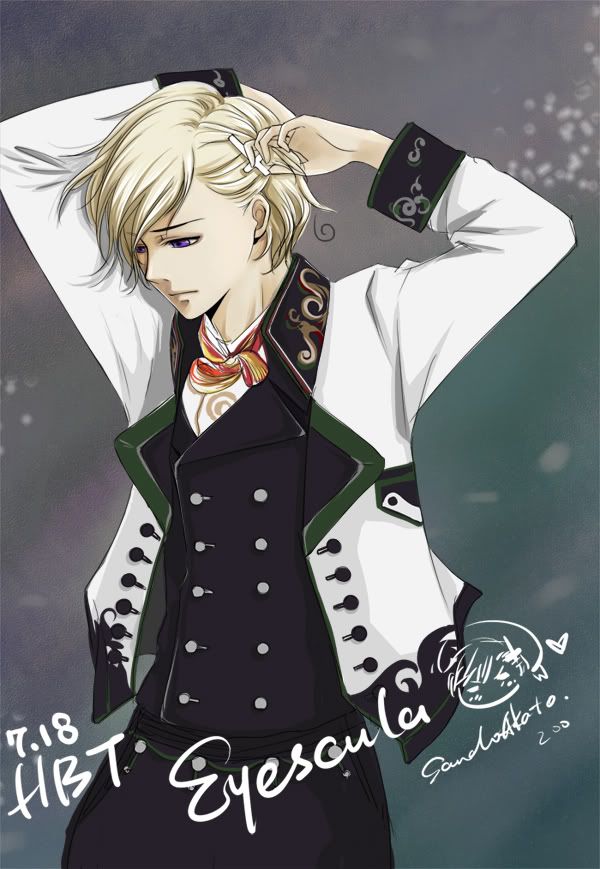 Erik's human form stands at roughly 175 cm (ca. 5.7 feet) and is of a lenient build, hiding more muscle than one would initially believe. He has scars various places on his body, but a masking spell aids to hide these against unwanted attention.
After being 'enslaved' Erik is at all times seen with a gold cross-barrette, a
necklace
resembling Thor's hammer and a
ring
on each
hand.
These pieces of jewellery keep him bound to his 'capturer', and should he refuse orders the jewellery will cause mind-numbing pain.
His hulking dark form is closer to 200 cm (ca 6.6 feet) and his eyes are a hunting murky blue.
He battered his tiny fist to feel something. Wondered what it's like to touch and feel something.
Likes ►
+
His Fiddle
+ Coffee
+ Alcohol
+ Water
+ Peace and Quiet
+ Nature
+ Old traditions
+ Story telling
+ His 'little brother'
+ Emil calling him "Bror"
+ Cold/wet weather
+ Reading
+ Pretty women
+ The trolls and faeries that live in the forest near his lake.
Dislikes ►
- Being restrained
- Large Cities
- People who have no respect for traditions and magic
- Humans
- Loud noises
- Warm and dry places
- Hot/spicy food
- Modern 'Pop' music
- Cars and planes
Strengths ►
+
Shape-shifter:
Erik has a
human form
, a
white horse form
and a
large ugly form
that seems to be a body consisting of sticks and mud.
+
Water:
He's a creature of the water and thus can manipulate it to his will as well as using it for healing.
+
Calm and orderly:
Erik seldom jumps into situations without considering the consequences. He doesn't take unnecessary risks and would much rather stay out of trouble.
+
Unemotional:
Erik cares for no one but himself and Emil – or so it seems at least. The Nøkk is hard to read and hides his emotions behind an uncaring mask.
+
Music:
Erik is incredibly talented at playing the fiddle. He can lace the music and his voice with magic, making it near impossible to resist him. He uses this trick to manipulate humans and lure them to a watery grave. (the music can have effects on other magical creatures – depending on the strength level of the other magical creatures it can have little to no effect on them)
Weaknesses ►
-
Fire:
it's his greatest enemy. It fascinates him and he finds it beautiful, but as a Nøkk, Fire is against his very nature so he's rather weak against it.
-
Iron:
especially blessed metals that people hold a lot of faith in. Things like religious crosses can burn him badly if he's not careful.
(This is why the golden cross-barrette is such a powerful binding. He's incapable of even rational though should he attempt to take it out himself.)
-
Dependency on Water:
Erik is dependent on water, if he's unable to drink or bathe in water he becomes very weak. Denying him water for long periods of time makes him as weak as the average human – and it can eventually kill him.
-
Coffee, Alcohol, Salted meat:
these things are some of his favourite things to eat, and he's sometimes easier persuaded to do things if given large quantities of the stuff (even when not enslaved he'd teach humans brave enough to approach him how to play the fiddle – in exchange, he'd demand some of the things listed above.)
Dreams ►
+ Escaping his bonds and being free
+ Getting revenge on the humans who enslaved him
+ Living with Emil like they did before – it's the closest thing to a family he's ever had.
+ Finding a method to prolong Emil's life.
Fears ►
- Fire
- Someone hurting his younger brother, Emil
- Never being free again.
- Emil dying
- His younger brother turning against him or treating him like a monster.
Personality ►
Behind the cold and seemingly indifferent façade, Erik used to be cunning, evil and often took a morbid pleasure in others' misery and pain. He was not above wishing downfall on others, nor did he feel much remorse for the humans he drowned. Preferably he did drown criminals and murderers, but there have been times where he has spirited away women and children. Until Emil came along, Erik didn't care much for humans. He found them too selfish, weak and ignorant to spare them any sympathy. However, everyone can change.
He prefers the peace and quiet of an isolated lake than the hustle and bustle of big human cities.
However, Erik isn't unable to socialise – over the centuries he's learnt a lot, and if he wants to, can be the perfect example of a gentleman. (It helps to know how to act if one wants to lure young women)
Erik is sarcastic and rather mean to people he'd perhaps think of as 'friends'. Mocking others is a way for him to show he 'cares'. Despite this first impression of his personality, if he truly trusts someone he can be friendly, loyal and helpful. However, a mean spirited nature can be awoken and only intensifies when he meets someone he truly dislikes or hates.
More often than not, Erik is calm and collected and little seems to be able to move past the thick icy walls he puts around himself . Most of his actions are well though out and carefully calculated, but he does have his moments of whimsicality. Choosing to adopt a 'human' is probably the biggest example of things done on a whim. Erik's lust for blood is kept in control because he wants to blend in and not terrify his younger brother. However, it is still very much there and he's a very dangerous enemy once provoked.
Although a creature of the dark, Erik does possess a heart - it just took a while for him to find it. And like many of his kin – he does seek companionship, he's just rather picky about who he wants to spend eternity with.
A wife of a nøkk/kelpie will live as long as their husband, thus Erik is very careful as to whom he'd allow that close to him.
While he believes in hard work and praising others, he can be rather depressing and pessimistic when it comes to himself and his own achievements. He can't stand bragging or people who are overly proud of their own achievements, and will not hesitate to send such people verbal 'jabs' to deflate their ego a few notches.
History ►
Erik lived alone for centuries, the most contact with others he got was when he'd take a rare trip into nearby towns. Or when the locals gave him human offerings to keep him from luring more people into the dark and murky depths of his lake.
One day, a small human boy was left in the shadows of the trees near the lake – an offering by a local village to appease the monster in the lake.
Erik became curious as to why a child with white hair and purple eyes had been left to him. Last thing he had heard, such people where the 'children of the gods' and highly respected.
Curiosity got the better of him. The child didn't fear him like everyone else did – he almost welcomed his fate as an offering. To Erik, it all seemed so strange. People where supposed to fear him, hate him, wish for his death – not sit there and look almost happy about being a sacrifice.
Instead of drowning the small child, Erik kept the child safe, choosing to raise Emil instead, as if he was his very own blood brother.
To this very day, he's still not quite sure what made him do so, it was a mere whim at the time – something to amuse him for a short period of time.
However, over time, Erik started to truly care for the young human – teaching him how to play various instruments and a few water-based magic tricks. Living with a magical creature for so long does have it's certain affect on young humans.
However, at the age of 16, his younger 'brother' was captured by a monster hunter – in exchange for the boy's freedom, Erik allowed himself to be bound and sold on the market to the rich humans.
The process of having the golden cross-barrette put into his hair was like fire being pumped through his veins. The necklace around his neck made breathing incredibly painful for several days, and the two rings placed on each hand made him twitch and writhe in pain at each movement.
At that moment Erik swore to kill the human who enslaved him, and any other human who dared to try and control him would end up with a similar fate if he ever got the opportunity.
Years of Emil teaching him that not all humans where bad was undone in one single day.
He doesn't regret being enslaved to save Emil – but it has done little to ease his hatred for humans. The only human he still sees as any kind of worth is his little brother, however; in Erik's eyes, Emil is not quite a human any more.
Monster, how should I feel? Creatures lie here, looking through the window…
Roleplay Sample ►
Shock would be the right emotion to describe as Erik rose up from the water to see what sacrifice the villagers had left him. A child.
A small human child. Erik blinked and masked his presence as he studied the small child hiding amongst the trees. Hair as white as snow and eyes the colour of lavender – a truly rare sight in this day and age. But why had the villagers given him a child of the gods? Surely such a rare and valuable child should be raised to be their new leader...not left for him to eat?
Erik though about it for a few moments before stepping out of the lake and towards the child.
"Well, well ,well. What have we here...? ...God aften little one..." A small chuckle escaped his lips as he crouched down in front of the small child. Erik expected the child to run, scream, faint or even beg for his life. But the kid did no such thing.
Lavender eyes stared up at him uncaring – he'd already accepted his fate as a sacrifice.
A look of confusion crossed his face for a moment. How could someone so small be so...brave?
It didn't make sense. Humans feared and hated him, no one had ever looked at him with such an expressionless face. This kid was special, no doubt about that.
"What's your name then little one?"

He'd been left here by the villagers, that meant the child was his now – his to do with as he pleased. Erik carefully considered how to drown the child...however, it would be a shame to eat someone so rare – at least at such an early age. He was far to skinny to stifle his hunger. Had the villagers not fed him? This small child truly did puzzle him.

Right there and then; Erik decided to keep the child. It was boring to be on his own at times, perhaps the child could amuse him for a few days.
At that time, he had not even considered or expected the huge impact on his life this weak little child would be.
OOC Section
[/u][/size]
Alias ►
Nor, Coffee, Norge...
Time Zone ►
GMT and GMT+1 during holidays
Contact Method ►
MSN, Skype or even FB if I care to share that info. XD
Favorite Pairings ►
Norway/Belgium, Norway/Belarus,
(I mostly see NorDen as bro's XD )
IceSey (come on Bee 8D <3 )Nor/NL
<.<
Can I have my Strawberry ice cream now please?
Profile coded by Neko. Lyrics are from Monster by Meg and Dia. You are not able to use this profile anywhere else.
[/blockquote]