Post by austria on Jun 14, 2011 14:20:33 GMT -5
His little whispers. Love me. Love me. That's all I ask for. Love me. Love me.



►►Character Name
[/u][/size]
Nation ►
The Republic of Austria
Human Name ►
Roderich Edelstein
Age ►
Twenty seven years old
Gender ►
Male
Species ►
Human; Upper class
Description ►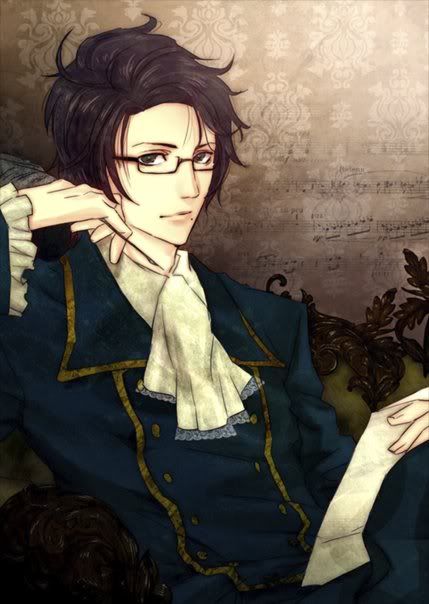 He battered his tiny fist to feel something. Wondered what itfs like to touch and feel something.
Likes ►
~Music of all genres
~Tea
~Literature
~His Piano
~Relax time
~Organization
~Composing Music
~Cake
~Silence
Dislikes ►
~Ignorance
~Loud noises
~The outside
~The Ocean
~Sea Creatures
~Fighting
Strengths ►
~Creativity- As a musician and a composer, Roderich is chock full of creativity. Now, this doesn't just apply to music, but to life situations as well. Even if he's put on the spot, Roderich can find a quick fix for the situation at hand. With music, however, creativity can run a little bit dry.
~Curiosity- Being curious was what caused him to be the great musician and composer he is. Even now, he continues to wonder, "What would happen if..." for every scenario, but primarily music. As a composer, he is curious to know what would happen if he uses different harmonies or a different rhythm with stringed instruments. The urge to experiment with what is at hand is always there.
~Musically Gifted- From a young age Roderich has always had a talent for playing musical instruments and in later years, composing music. His life revolves around his musically abilities and his way of life depends on it.
Weaknesses ►
~Easily annoyed and angered- Anything that seems the least bit annoying will set Roderich off. It could be as little as someone cutting in line, but it will anger him. Of course, he'll try to bottle up his anger, however, it has a tendency of coming out very loudly.
~Physically Weak- Roderich has never been a strong person, even when he was a child. It's possible its roots are from him not really participating in any sort of physical activity as a child.
~Emotionally Weak- When it comes to emotions, Roderich isn't totally clueless, but sometimes has trouble controlling his emotions. Many people believe he is very emotional for a guy, so Roderich channels his emotions through his piano.
Dreams ►
~Discover a new inspiration- The art of composing music always requires some source of an inspiration. Lately, Roderich has begun to run out of creativity or rather, a case of writer's block for a composer. So, he is seeking a new source of inspiration whether it be a person, scenery, or even a beastly companion.
~Rekindle his relationship with his brother- Roderich still thinks of his brother often, and wishes he could somehow resume the relationship they had when they were living together. Since Roderich left so abruptly, he believes that his brother is angry with him and uses that as an excuse not to see him.
~Fall in love- Roderich is nearing the age where one may want to settle down but not have children (He really doesn't want children, but that's besides the point). Love has always been a mystery to him and his curiosity never rests.
~Make new friends- For all of his life, Roderich has either focused on learning how to be a proper aristocratic gentleman, or played piano and composed music. The Austrian never really had time for friendships. Now, however, he is more open to meeting people and devolping long lasting friendships.
Fears ►
~Forever Alone- As much as he loves the peace and quiet of his home, Roderich would not be able to live forever alone. He enjoys the company of others as long as they're quiet. Honestly, no one wants to be forever alone.
Personality ►History ►
Roderich Edelstein was born into an aristocratic family. His parents were pleased at the fact that their first born was a son, to continue the Edelstein name, so they decided not to have any more children. Roderich spent his childhood days alone in the many large estates his parents owned. Often times, he'd mope around the house looking for something or someone to eliminate his loneliness. Seeing that their son was depressed, they decided to adopt a younger boy named Luca. In Roderich's parents' eyes, adopting a child made them look saint-like and believed that their friends and neighbors would agree.
Roderich didn't exactly know how to react to having an adopted younger brother and not having anytime to socialize with people his age didn't make it any better. In due time, Roderich grew used to having the other boy around the house and enjoyed his company very much. Besides his brother, Luca was Roderich's first real friend. Never before had he played with anyone his age or had to care for anyone else.
However, his days were spent by constantly having manners and gentleman-like conduct hammered into him by his governess. To escape the lesson of forks and knives, Roderich wandered into the ballroom. Initially, he felt bad leaving Luca all alone to deal with the governess, but Roderich had a couple of years of dealing with the old bat himself under his belt.
His parents hosted a lot of parties and always had musical entertainment. A beautiful grand piano sat on the other side of the room. Like a magnet, he was drawn to the piano but only with curiosity at first. Roderich attempted to play a few pieces he had heard during those parties. He had gotten the rhythm correct, but sour notes sprang out causing the Austrian to become extremely frustrated. He sat at the piano for hours trying to figure out what he did wrong and how he fix it to make the piece flow beautifully. Unfortunately, his governess stormed into the room, grabbed Roderich by the collar of his shirt, and dragged him out before he could finish.
Roderich spent his pre-teen and teenage years being taught the ways of an aristocratic individual by his governess and playing the piano when no one knew. The piano was his only escape from the world. A time where he could let out his frustrations or play a happy and bouncy to tune to reflect another mood. Little did he know, his governess watched one of his daily secret sessions. The woman went as far as to tell his parents about him playing the piano.
In a normal situation, parents would be thrilled to know that their child was a musical genius. However, with Roderich's parents, they were extremely disappointed with their son for, the believed that music should only be played by a servant while the higher class people listened. So, they decided to sell the piano causing Roderich to become furious.
Upon reaching the age of nineteen, Roderich took the money that was from the piano and left the Edelstein household. Taking the money was against his morals, but he needed to start somewhere. Roderich started off very small, playing at a few places and earning very little money. Often times, he'd lay awake at night thinking of how his brother was doing. Roderich knew that if he thought of Luca, he'd want to go back home so he tried to push the memories of the boy into the far corner of his mind and only think of music.
The Austrian continued to play at local places and started to dabble into composing. The music business is all about connections to people and fortunately for Roderich, a friend of his managed to hook him up with conducting one of his compositions for a symphony orchestra. Despite a rough start with living on his own, he managed to pick up his life from there. He conducted more orchestras and earned himself a great deal of money for doing it.
Life as an aristocrat resumed when he bought himself a lovely, but small house and a grand piano similar to the one he first played when he was a boy.
Monster, how should I feel? Creatures lie here, looking through the window
Roleplay Sample ►
Enter your best sample of this character. You may use one from other rp's, but please try to stick to the character you're rping for.
OOC Section
[/u][/size]
Alias ►
(What do you wish to be called?)
Time Zone ►Contact Method ►
(How can we get ahold of you?)
Favorite Pairings ►
(Wefd like your favorite pairings for the character you play first, and then you may add in general fave pairings. Then we ask you give us the key word.)
Profile coded by Neko. Lyrics are from Monster by Meg and Dia. You are not able to use this profile anywhere else.
[/blockquote]