Post by Feliciano Vargas on May 31, 2011 17:25:39 GMT -5
His little whispers. Love me. Love me. That's all I ask for. Love me. Love me.



►►Feliciano Vargas
[/u][/size]
Nation ►
Repubblica Italiana || Italia Veneziano
Human Name ►
Feliciano Vargas
Age ►
21
Gender ►
Male
Species ►
Werewolf
Description ►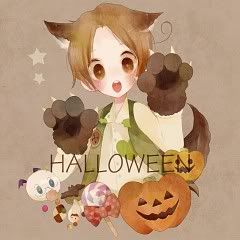 [Without the paws; Feliciano doesn't have paws like that.]
When, and if bound, Feliciano has a thick collar covered in silver. This is usually all that is needed to subdue him; if he is a cause of trouble, he has pure silver chains wrapped around his wrists.
He battered his tiny fist to feel something. Wondered what it's like to touch and feel something.
Likes ►
♥ Food
♥ Talking
♥ Art
♥ Italian coffee
♥ Reading
♥ Siestas
♥ Playing (this includes fetch)
♥ Running around
♥ Burying shiny things he finds
♥ Being dirty
♥ His brother
♥ Peace
♥ Howling at the moon
♥ Singing
♥ His squeaky toys
♥ Other wolves, especially Alfred and Ludwig
♥ Being petted and scratched behind the ears
Dislikes ►
✖ Confrontations
✖ Coffee that's not Italian
✖ Wurst
✖ Working
✖ Taking baths
✖ People tugging on his curl
✖ Having a collar
✖ People stealing his toys
✖ Doctors
✖ Transforming once every month
✖ Scary people
✖ Vampires
✖ Silver
Strengths ►
•Enthusiasm: Feliciano always sees the best in everyone and everything, and cheers people on as often as he can. This usually includes his brother or anyone who deserves it.
•Loyal: Once he makes a friend, he will stick by you no matter what. Even if you don't see it that way. He sees the importance of friendship and doesn't want to let that go.
•Stubborn: He doesn't give up on anything that matters to him. Including anything about his favorite things (namely his squeaky toys). He can quite vocal about his opinions if he wants.
•Great cook: Feliciano is always happy to cook for someone, and he blushes whenever they compliment his cooking.
•Ability to love: He spreads his love to whoever he can, to whoever he thinks needs it. All he wants to do is help people, and he forgives easily.
•Manipulative: Whichever side of his personality you meet, he is -- in some way, intentionally or not -- going to use whatever tactics necessary to get what he wants.
•Appearing useless: Of course, he doesn't really appreciate people calling him an idiot and an useless dog, but he can get surprisingly far just for acting stupid. He hates it, but it's useful.
Weaknesses ►
•Easy to take advantage of: Feliciano is extremely gullible, and is willing to go along with you if promised lots and lots of food and naps.
•Tends to panic: Having little to no courage makes him flee at the first sign of ill behavior, Feliciano really doesn't know what to do when there's some sort of confrontation and he can't do anything.
•Can snap at any given time: He can never tell when his darker personality will pop up, and finds that it is not easy to control.
•Pasta: Offer him a plate of pasta or any sort of Italian food and he would be happy to do anything for you.
•Innocence/Naivety: This usually lands him in trouble, as he does not usually understand what you're saying until its too late.
•Easily spooked: If wandering alone and something jumps out at him unexpectedly, Feliciano will flee and seek protection behind the nearest person he sees.
•Silver: This should be self-explanatory. As a wolf, he can be bound and/or injured easily with silver, depending on the exposure. It is the one thing that is his weakness and what he fears.
Dreams ►
•To be together with his brother; whether this means to live with Romano or be in a relationship with him, Feliciano isn't sure. He would be fine with either.
•To be free; he is sure that most pets feel this way, but he is fond of running through an endless field.
•Of finding someone to love; his sexuality is questionable at best (Feliciano thinks he's bi, but he acts more pansexual), but he puts all of his efforts into loving someone.
•To be surrounded by pasta; yes. He actually does dream of this. Having all the pasta he could want is a happy thought to the Italian.
Fears ►
☣ That his darker side will take control some day; whenever he goes through his transformation, his more passive side is squashed beneath his more sadistic personality. It is almost like a second voice in his head, one that mocks him constantly. This side of his is hard to control, at times.
☣ Being left alone; after his and Romano's father had abandoned them at a very young age, Feliciano doesn't want to let go of anyone he loves for fear of never seeing them again.
☣ Having his brother taken away from him; this is a constant fear for him. Feliciano loves his brother dearly, and after growing up in the basement together, he wouldn't know what to do if Romano disappeared.
☣ The dark; growing up in an isolated, dark room for the first half of your life would leave a scar on anyone. Feliciano refuses to go into any sort of dark space without someone else or adequate light. He doesn't want to get locked inside again.
☣ Silver; this should be self-explanatory. As a wolf, he can be bound and/or injured easily with silver, depending on the exposure. It is the one thing that is his weakness and what he fears.
Personality ►
Feliciano is a completely happy-go-lucky man who always tries to see the best in every situation. He does not like to dwell on sad subjects and often tries to tell a bad joke or distract the people he's around. He cares deeply for the people he loves and is always willing to help, although he has a frequent tendency to stick his nose where it doesn't belong and is usually unable to pick up the atmosphere of the room; he just wants to make friends and doesn't understand that sometimes people don't want him to hear what they're talking about. He has a verbal tick of "ve", using this word in almost every sentence. He also has a very short attention span and is distracted quite easily; he often just flits to the next interesting thing, which at times means leaving mid-conversation after he spaced out. He is very clumsy, so it's no surprise if he's sporting some sort of band-aid that was provided by Germany at the end of the day; he is gullible as well, believing everything he's told, especially if you tell him with a straight face.
He talks to everyone and anyone he can, even if they were talking to someone else first, and often gives out some sort of praise. It makes him very happy to see people smile and will always try his best to do so. He is hyperactive and it usually takes quite a while to calm him down; it is very easy to rile him up. Despite his easily excited tendencies, he can be serious when the situation calls for it. This serious side does not always show, but there are times where he switches between these two aspects of his personality.
This other side usually only emerges once a month, near the time of his transformation. He is very temperamental and snaps easily during these few days, his sadistic tendencies showing itself. He tries his very best to suppress this bloodthirsty side of him, but even then he still does not have much control over it. There are occasions when this personality rises up without warning; even Feliciano cannot tell when it will pop up next. At these times it would be best to steer clear of the Italian; he can get quite violent and isn't afraid to cut down anyone he sees…though it is easy to snap him out of it. Just tug on his curl.
As part of this, he is overprotective of the people he loves. But he is also a naturally skittish person who is spooked easily and often seeks protection behind the nearest person, frantically waving one of his many white flags.
History ►
The very first memory Feliciano can recall of his childhood is being in a dark basement with no hope of escape. He remembers clinging tightly to his brother, relying on him to take care of them both. He was very young (he didn't know his exact age) and scared, constantly spooked by the noises underground. He would often sit by the door, keeping his eye on the strip of light at the bottom and listening to the servants going back and forth beyond.
Years passed by this way; the brothers getting little food and interaction from anyone but themselves, and Feliciano listening to those intriguing sounds beyond the door. Their relationship was strong because of this, for better or for worse. Once Feliciano turned 13, it was all over. The younger Vargas transformed into a wolf under the full moon; it was painful, but it felt as though he were free and no longer confined. He was a tiny little wolf at first (though he seemed to grow the more he transformed), and when he turned back into a human, some wolf features stayed. Feliciano now sported small dog ears, a long, fluffy tail, and longer than normal nails and teeth.
And then the brothers were thrown out. Feliciano and Romano had to rely on each other to survive, which was perfectly fine with the younger Italian. He trusted his brother without question. He started to wonder why Romano wasn't as affected by the full moon as he was, and when his brother had disappeared for several hours one day, he paced worriedly until he came back, convinced that Romano had been injured or captured or worse.
Once he heard that Romano was a shape-shifter, Feliciano just smiled and hugged him to show that he accepted him no matter what. He was just happy that his brother was safe and not dead. It didn't matter to him that he was a shape-shifter, as long as he was with the other.
Monster, how should I feel? Creatures lie here, looking through the window…
Roleplay Sample ►
Ti amo, ti amo…how sweet~ he doesn't even realize what you're trying to say, is he?

The mocking voice filled Feliciano's head without warning and he bit his lip, trying to fight it back. All that mattered to him was that Romano was alive, and here with him; perhaps it was selfish, but he wanted his brother all to himself. No one else could have him. Not even big brother Spain.

He loves me.

No, he doesn't. Not in the way you want him too, is that correct?

…Si.

Can't trust him with your heart, idiota. You'll just get burned. It's useless trying to love him. He's useless.

You're wrong.

Feliciano tightened his hold around Romano's waist, determined to never let go of his brother again. Propping his chin on the other's shoulder, he took a deep breath in to savor the familiar scent of Italia Romano.

Leave him in the dark and let me take over. It will turn out better for you.

No. I will not abandon him.

Do you want to be left behind?

If it means I can stay with Romano, then yes.

Nothing would stop him from making sure his fratello was taken care of, the way he deserved. Feliciano loved Romano dearly, and knew that his feelings would most likely never be returned.

But still…

The Italian couldn't help but smile. He was with his brother, and that alone made him happy. Feeling bold, and ignoring the spluttering in his head, Feliciano moved closer to Romano and pressed himself up against him.

"Ti amo, Italia Romano~" he whispered, and lightly kissed his brother's ear.

He was happy.
OOC Section
[/u][/size]
Alias ►
Chibi
Time Zone ►
EST / GMT -5
Contact Method ►
Skype -- ChibiPrussia
Favorite Pairings ►
For Feli; PruIta, Itacest, or ItaEng. For everyone else; WorldxWorld baby <3
Exceptforafewcertainpairings >>;;
Anddddddd. Coffee ice-cream >D
Profile coded by Neko. Lyrics are from Monster by Meg and Dia. You are not able to use this profile anywhere else.
[/blockquote]