Post by declaro on Jun 17, 2011 4:27:25 GMT -5
His little whispers. Love me. Love me. That's all I ask for. Love me. Love me.



►► Berwald Oxenstierna
[/u][/size]
Nation ►
Sweden
Human Name ►
Berwald Oxenstierna
Age ►
25
Gender ►
Male
Species ►
Human; Middle to Upper Class
Description ►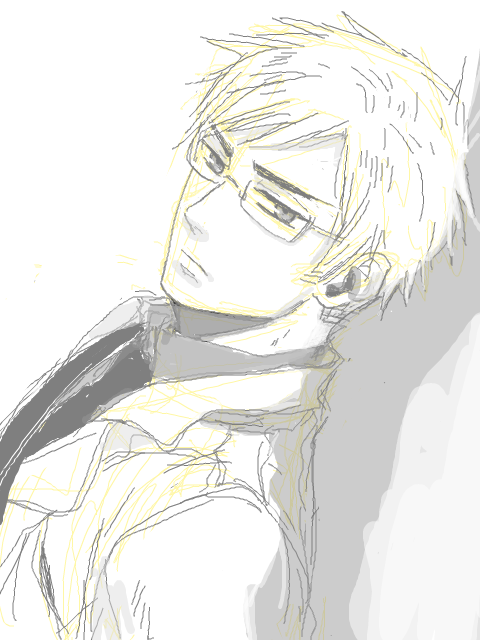 He battered his tiny fist to feel something. Wondered what it's like to touch and feel something.
Likes ►
-Children. (in a friendly paternal way)
-Surströmming.
-Long walks.
-Exotic animals and the 'monsters'.
Dislikes ►
-Loud, irritating voices.
-Violence without cause.
-Rashness, doing without thinking.
-Being idle.
Strengths ►
Caring:
Berwald loves with his whole being and, even if it's hard for him to express himself, he's more than willing to help the ones he loves, and he has often disregarded the cost to himself for their sakes. Due to a recent change of heart, this concern also extends to creatures, at least hypothetically.
Planner:
He's smart, capable of thinking quickly in times of need, and generally a good strategist. Never mistake his communication problems for stupidity. It will only end in embarrassment. Intelligent conversation makes him happy, and non-hostile arguments/debates even more so.
Minimalist:
Berwald can and prefers to get things done with as little as necessary. He also believes very strongly in the idea of 'lagom', which is that someone should never have too much, nor too little, but just the right amount. He's also got an eye for spotting how much he needs to do something.
Committed:
When Berwald gets an idea in his head, he chases it to its logical conclusion, and keeps it at it for as long as he feels he must. Some would call him obsessed.
Subtle:
Rarely an aggressive, direct man, Berwald prefers to be firm without being rude when he stands his ground. He does not push, but sets things up so that they go in the direction he wants.
Weaknesses ►
Intimidating:
This, of course, is not always a weakness, since it can be pretty easy to get your way when people are terrified of you, but Berwald thinks of it as one. He has a tendency to scare people off without trying to, and it bothers him. It can be somewhat handy when asserting his authority, but usually it only frustrates his efforts rather than aids them.
Long Memory:
Did you do something rude to Berwald ten years ago while you were drunk and don't remember what it was? Well, Berwald remembers it. Be warned if he decides to hold it against you. He may forgive, but he never forgets.
Hates being bossed:
Berwald hates this. If he feels his authority is being undermined, he will pretend not to hear or simply just not do whatever he's been told. He has to feel like he has a choice in the matter, otherwise he'll shut the other person(s) out entirely.
Inexpressive
It's often hard to tell what's on Berwald's mind, and his voice does not aid this in any way.
Sells himself short:
Berwald believes himself to be a much worse person than he actually is, and has a lot of guilt regarding his treatment of creatures in the past, something which would be easy to take advantage of. He has a tendency to see his worst qualities and not his best.
Dreams ►
-To study all the strange creatures of the world.
-To understand the unknown to the best of his ability.
-To love and be loved in return.
-To share what he's learned with others.
Fears ►
-To lose a loved one.
-To leave his work unfinished.
-To be ostracized because of his odd manner.
-To be turned into a creature himself (if possible).
Personality ►
Berwald is a strong, silent, and intensely focused man. Having seen many strange things in his life, he is fully capable of handling most of the situations thrown at him, whether they be troubles with his family business or a vengeful monster trying to rip his throat out. While his appearance, manner of speech, and general being give the impression of a scary, intimidating man, Berwald has a kind heart and a strong sense of empathy, both with humans and... other such beings. People often believe him to be humorless and unintelligent, but both his sense of humor and his wit are as sharp as they are well-hidden. He is fond of debates, philosophical conversations, and even arguments, though he is easily misunderstood.
Berwald's thick accent, regardless of the language he's currently speaking, makes understanding what he's trying to say extremely difficult at times. He's not fully aware of how bad his accent is, but will try and speak more clearly when asked. Clear or not, Berwald is a man of few words on most occasions, unless speaking of his passions, and anyone who expects him to dominate the conversation will find themselves disappointed, whether he is speaking German, Swedish, or any other language.
As a younger man, Berwald was possessed of an unpleasant temper, and treated his research subjects with less than perfect kindness. He has however come to realize the foolishness of this behavior, and does his best to treat both people and subjects properly.
History ►
Berwald Oxenstierna was the first and only child of his mother and father, an upper middle class merchant family originally from the north of Sweden. His mother died giving birth to another child, who did not make it, and his father was never able to fully recover from the loss of his wife and second child. Berwald's father did his best, but was often away at sea and left Berwald's care to nurses and tutors. Obedient and quiet, he was a dream come true for his tutors, but while he did well in all his studies, nothing seemed to hold his interest for long.
Living a rich, if somewhat isolated life, Berwald began to express an increasing interest in studying the strange creatures that had become the playthings of the idle rich. His father, reluctant to buy something so potentially dangerous, nonetheless gave Berwald access to the pets of family friends and willing clients. Berwald, already somewhat of a budding scientist, begin to research and observe these creatures extensively, and became wholly immersed in his new hobby. At the time, he saw them as he saw any other non-human animal, and conducted experiments with no real concern as to the pain or suffering of the creatures he'd hurt. In one, he clipped the wings of a harpie, rendering her wings useless. Rather than live as half of what she was, the harpie escaped from Berwald's care and killed herself.
Horrified, but uncertain of how to react, he stopped his research for several months, feeling a need to rethink his treatment of the creatures. If she was sentient enough to do such a thing, what of the other creatures? How much suffering had he inflicted on them? Berwald's previous research left him with few answers. He even began to consider simply joining his father in the family business, rather than continue. His moral conflict left him unaware of the revenge about to be taken on him.
Eight months after the suicide of the harpie, Berwald awoke to the smell of blood, and the sight of a corpse, mangled almost beyond recognition by what was certainly claws. If it were not for the locket by the body, holding a small portrait of his father and mother, Berwald might've never recognized it as his own father. The harpies left a warning and a promise: stop his cruel research, and Berwald would live long. If he continued, he would die. Berwald has chosen somewhat of a third route: treat his subjects as he would a human being, and unlock their secrets through kindness, not cruelty. Whether he will succeed is up for debate. His fellow researchers believe him mad, but he is determined to die trying.
Monster, how should I feel? Creatures lie here, looking through the window…
Roleplay Sample ►
The blood was finally cleaned off the walls and floor, but Berwald's hands were still shaking. On the table next to him sat a glass of brännvin and a plate of food, but he couldn't bring himself to touch it. His apetite was gone, his mood black. He would have to manage the family business somehow, and get his father's affairs in order, hopefully with the aid of a will. He should be looking for it, or preparing himself for the wave of mourning family members and close friends that would swoop down on the house, but he could bring himself to do none of these things.

Harpies were nothing if not vengeful. Even now, he could see the lifeless eyes of the one whose wings he'd clipped, croaking out a few broken words as he turned away to wash his hands. She had lashed out ineffectively, listlessly, but Berwald had still moved swiftly away from her swipe, in case the spirit returned to her. "Revenge ... coming. Sisters...." was all she had managed, before slumping to the floor. Revenge, he thought, had certainly come.

"Sir," a voice called out, and Berwald peered up into the eyes of his housekeeper, looking at him with great concern.

"Mm?" He felt a bit like that harpie had: barely able to manage a word. He wondered if that had been part of their plan.

"Your fathers' papers are in order in his office, when you wish to view them. Until then... please eat, sir." Berwald's eyes widened in surprise, though he doubted the housekeeper noticed.

"I'll try. Th'nk yah." The housekeeper nodded, bowed, and left Berwald to his thoughts.
OOC Section
[/u][/size]
Alias ►
Declaro, Sve(rige)/Sweden, or Emma.
Time Zone ►
GMT+1, Central Europe Time.
Contact Method ►
Psychic powers
The best way to get in touch with me is through one of the following:
Skype- starryskyatnight
MSN/Email/Gmail- substitutereality (at) gmail (dot) com
Favorite Pairings ►
Sweden/world, but specifically SuFin, SuDen, SuNor, etc.
Generally, Germancest, GerIta, Gerpan, FrUK.
Profile coded by Neko. Lyrics are from Monster by Meg and Dia. You are not able to use this profile anywhere else.
[/blockquote]