Post by Gilbert Beilschmidt on Jun 4, 2011 2:24:51 GMT -5
His little whispers. Love me. Love me. That's all I ask for. Love me. Love me.



►►Gilbert Beilschmidt
[/u][/size]
Nation ►
Prussia
Human Name ►
Gilbert Beilschmidt
Age ►
Looks to be about twenty-five in his human form, but in reality is more centuries old than he cares to count.
Gender ►
Male
Species ►
Dragon.
Like the European dragons of legend, Gilbert once guarded a cave of treasure he'd collected. He cursed his treasure to bring misfortune to those who stole it, and guarded it against all who dared to try. These days the enchantments he placed on his treasure are not as strong, but he can still sense his own handiwork and knows the treasure is from his cave if he's near it. Kind of like how an animal recognises its own scent on things it's marked as their territory.
Nowadays he curses his own belongings the same way he cursed his treasure. He's not about to let just anyone walk off with his stuff unless he's sold it to them.
Aside from the ability to lay curses, Gilbert can also shoot fire out of his paws (hands, in human form). He can control the direction and heat of the flames (at their hottest they can melt rocks), but creating the hottest flames takes up more of his magic. He can also take human form, but he can't alter his human form's hair or eye colour at all to make it look more normal.
Description ►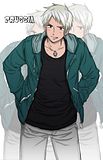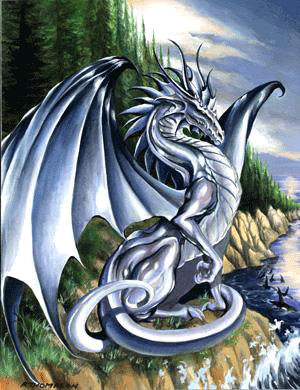 Although his true form is a large silver dragon with red eyes, Gilbert prefers to look as human as possible these days to avoid detection. In human form he's about 5'9" or 5'10" tall, and his hair and eyes retains his dragon colouring. Luckily for him such looks are considered "albino" and are ignored by most humans. He also wears contact lenses to make his eyes look human. They disguise the fact that his pupils are slits like a cat's rather than round like a human's even though he feels like he's half-blind when he wears them. Apparently albinism can cause vision problems so even that is hand-waved by most humans. Gilbert prefers to wear casual clothing, but will wear more formal clothing if he is required to do so e.g. for work or special occasions.
He battered his tiny fist to feel something. Wondered what it's like to touch and feel something.
Likes ►
Humans: While a lot of mystical creatures will do anything they possibly can to avoid humans, Gilbert loves to take human form and walk among them. He finds humans incredibly interesting now that he doesn't have to have them sacrificed to him or have to defend himself against the ones who want his treasure.


Treasure: What kind of dragon would he be if he didn't have a liking for shiny things? He won't go so far as to steal something valuable, but he does tend to notice valuable things more than anything else.


Beer: He discovered this awesome beverage when he first left his cave to travel, and took an instant liking to it. It tastes good and makes him feel awesome! What's not to like?


Gilbird: This little chick took an instant liking to Gilbert, and especially likes travelling around on his head or his shoulder rather than flying around under his own steam. Gilbert isn't sure whether Gilbird will eventually turn into a rooster or turn out to be a canary, but he's kind of hoping for canary so he'll stay small.


Disguises: He likes the advances in costume and disguise-related technology (makes it easier for him to blend in with the human population), and he especially likes the novelty contact lenses that make his eyes look human.


Ludwig: Even though he only knew him for a few years, Ludwig really grew on Gilbert. He would've liked to stay with him, but that wasn't possible at the time.


Freedom: To Gilbert there would be nothing worse than being bound and turned into a "pet". He is always vigilant when living among humans, and vanishes when he feels there's a risk of capture.
Dislikes ►
Servitude: The worst thing in the world for a freedom-loving dragon like Gilbert. He never wants to bow down to a master, and besides, what if they use his own treasure to bind him? That would be the ultimate insult.


Screaming Princesses: Aside from the screaming itself being loud and unawesome, the whole "sacrifice a princess to avoid the dragon's wrath" thing got old really fast. The dresses irritated his throat and made him cough, and those high-heeled shoes would make his throat hurt if they were still conscious and kicking on the way down.


People trying to steal his treasure: Another unawesome thing humans used to do before he started travelling. Gilbert collected and cursed that treasure fair and square, so those humans had no right to try to take it. He had to admit that the adventurers did taste better than the princesses though, and their shoes weren't as pointy.


Magic users: If Gilbert senses a magic user is getting too close to him or one has taken a serious interest in him he vanishes from the area immediately in an attempt to remain free.


People using his treasure to bind other creatures: It really pisses him off that magic users would use his treasure to restrict the freedom of other creatures. He didn't collect it originally for that sort of purpose.


Being alone: Although he was a solitary creature back in the day when he was guarding his cave and treasure; being among humans for so long has made him want to establish ties with people, but he also knows it's unsafe to do so so he tries to avoid getting closer to people.
Strengths ►
Physical Strength: In his human form Gilbert is a bit stronger than the average human. Not super-strength or anything like that, but more strength than you'd expect him to have just by looking at him.


Magic and magic sensing: Gilbert has and can use his own magic (his magic is explained in the Species section), but chooses not to when he's among humans. He can also sense people and things that he's used his own magic on kind of like how animals can smell their own scent on things that they've marked as their own.


Storytelling: Gilbert took to storytelling as a way to make money on his travels because who doesn't love a good tale about knights and princesses and slayers of dragons and other legendary beasts? Some of his tales are his own past, and others are stories he's heard on his travels all carefully altered of course to make the legends sound awesome.


Fighting: Gilbert can certainly hold his own in a fight in human form, but he's not invincible and has had his butt handed to him on many occasions.


Loyalty: In spite of the fact that he can vanish in an instant if he feels he needs to, Gilbert actually can be strongly loyal to people he winds up caring about.
Weaknesses ►
Eye sight: Gil wears contact lenses to make his eyes appear human (his eyes actually have slits for pupils even in human form), and the one drawback of them is that they limit not only how much light gets drawn into his eye but also his range of vision. He'll remove them at night if he's alone so he can see properly, but the rest of the time he feels like he's half-blind.


Hyperfocus: Ordinarily this could be considered a asset, but in Gilbert's case it's a liability as what he focuses on strongly is valuable items. Sometimes when he sees something valuable (it doesn't matter whether it was originally his own treasure or not) he focuses solely on the item and how he could possibly get it. He completely loses track of his surroundings whenever this occurs unless his focus is broken.


Paranoia: What started out as self-preservation seems to have become mild paranoia for Gilbert. If he so much as thinks a magic user suspects he's not human he leaves town without so much as a "see ya, kid". It's nothing personal, just pure self-preservation.


Tact: This was a skill Gilbert didn't need back when he was guarding his cave, but one he's had to learn living among humans. Even so, he often forgets to use tact and ends up unintentionally offending people.
Dreams ►
To reclaim what was once his: Gilbert is aware that people have stolen his treasure, he can sense the enchantments he put on it if he's close enough to it. He would like to reclaim that treasure if possible for himself.


Finding out what happened to Ludwig: Considering he tends to lose track of the years he wouldn't mind knowing if the kid is still alive or not, and he regrets leaving the way he did. He knows he can't explain to him why he left all those years ago, but it would be nice to see him again.


To find a place for himself in the modern world: Gilbert is aware that the world is changing, and that advances in technology are making his current career obsolete. It's taking him time, but he's already figuring out ways to adapt and make use of technology so he won't get left behind.


To make peace with himself: Gilbert has lived a long time, and has done some things that he wouldn't have thought twice about before he lived among humans. Travelling all over the world has changed his way of thinking, and now he's trying to accept what he was and move forward.
Fears ►
Being captured: To Gilbert being captured and forced to obey some human's every whim is the worst thing he could imagine.


Being forgotten: Due to his paranoia about being captured, Gilbert has steadily avoided forming relationships with most of the people he's met over the centuries. In spite of this he doesn't want to eventually leave this world and have no one remember he existed. It's why he tells stories. So the exploits of Gilbert the Dragon will be remembered for generations to come even if he loses more often in the stories.


That he left it too late to try to find Ludwig: Because of his long life span he doesn't really notice or care about the passing of years, and when he returned to some places the people he knew had passed on. When he realised that he missed Ludwig and wanted to see him again someday he was worried about whether he'd been gone too long and missed his chance.


Losing his magic: Gilbert sometimes worries that he has spent too much time in human form, and wonders if he'd ever be able to take his true form again. So he tries to secretly use his fire magic when he can to remind himself that he hasn't lost his touch.
Personality ►
At first glance Gilbert seems like a loud, over-confident person who's utterly convinced that he's the most awesome person to have ever walked the Earth. Over the centuries Gilbert has learned just how important first impressions are to humans, and has tried to make his as memorable as he can. Unfortunately the way he presents himself could come off as annoying to some people, but he doesn't seem to be aware of that, and if he is he really doesn't care. He'd much rather be remembered than be forgotten even if that memory is a less-than-wonderful one. If nothing else, he really knows how to get people's attention (good or bad) which has helped him find success over the centuries as a storyteller.
When he knows he has someone's attention is when he really comes alive. He can be charming, funny, intelligent, and sometimes even affectionate depending on how well he knows you
(or how drunk he is, but shhh)
. For some of those who wrote him off as a loud nuisance when they first met these things can be rather surprising and throw them a little off-guard.
If you decide to look past the "I'm awesome!" side of Gilbert, you may find it rather difficult to get to know the person underneath. Gilbert has spent centuries keeping people at arm's length partly out of paranoia, and partly out of a sense of self-preservation. His deep-seated fear of being captured has him fleeing from wherever he is if he so much as thinks someone is trying to capture him, and he avoids getting close to people to try to make vanishing in an instant easier on himself. Occasionally people have slipped past all of his defences and gotten close to him, but it's a very rare thing.
There is one side of Gilbert that he keeps to himself as best he can; left over from his days of guarding caves. The side of him that collects and hoards valuable treasure, keeping it all to himself where no one else can find it. While most people would see this as selfishness in its most pure form, Gilbert sees it as just being the way he is. He's a dragon, and dragons collect and hoard treasure. This side of him is not without its drawbacks either. Gilbert can also become mesmerised when he sees an item he considers valuable and worthy of hoarding, and tends to develop a one-track mindset built around how to obtain it until someone or something else makes him break eye contact with the item. He dislikes this aspect of himself as he potentially risks capture if he enters that mindset in the wrong place at the wrong time.
Even so, Gilbert takes a lot of pride in being a dragon even if he rarely takes dragon form any more. He secretly uses his magic in small ways to remind himself he still has it, and to check that it's as strong as ever. Because he's lived for so many centuries in human form sometimes he worries that he might forget that he's not actually human. He knows living as a human has already changed how he sees the world, and how he views his own past. As a result he's doing his best to accept what he was and that he's changed so he can move forward with his life.
One drawback of the way Gilbert lives his life is that he gets quite lonely at times, and tries as hard as he can to convince himself that he's perfectly happy on his own. Dragons are creatures of solitude, after all. Acquiring Gilbird has gone a long way towards helping to alleviate the loneliness, but he knows that unlike him Gilbird won't live for centuries and that he'll eventually be alone once again.
History ►
Gilbert isn't quite sure when he came into being, but the furthest back he can remember is living in a cave. In those days people respected dragons, or at least didn't want them attacking their kingdoms, homes and villages. So people would offer treasure, and sacrifice Princesses or virgins in order to appease his wrath, such as it was. The only problem with this was that these people didn't incur his wrath before dumping the girl on them; they incurred it after when the girl started the screaming and the sobbing. It seemed all of those sacrificed girls were wimpy ones, but then again, they were a free feed...
The only other problem he had with them leaving the girls was the fact that the Knights would come and try to rescue them. Those pointy things they call a lance do make a damn good toothpick though, and he made sure neither the girls or the Knights got away. For the next few centuries, Gilbert enjoyed his diet of Princesses and Knights, as well as the occasional adventurer who found out he had treasure. He had no idea that his life was about to change forever.
One day a group of strange-looking knights appeared in the clearing in front of his cave instead of the usual sacrificial Princess. None of the knights were in tin cans as usual, but instead were wearing strange clothes with hoods. Before Gilbert could roar at them to go away, one drew something in the air in front of him, and rope appeared around his muzzle! As they were congratulating each other on stopping the fearsome dragon from setting them on fire, Gilbert shot several fireballs at the lot of them from his paws. He managed to kill all of them but one in the initial salvo, and picked off the last one soon after.
As he removed the rope around his muzzle, he came to a realisation: those strange-looking knights wanted to trap him for some reason. But why? Did they want his treasure? They certainly couldn't have that! As he looked over the charred remains of the strangers, he noticed jewellery of some sort lying there on the ground, and said jewellery looked like a large gold bracelet. Large enough to fit his own front leg, to be precise... Gilbert picked up the bracelet, and noticed that it wasn't designed for dragon claws to open. He couldn't even find the place to open it now that he was holding it. Clearly
someone
wanted a pet dragon, and sent these idiots to get it. Gilbert growled and created an incredibly hot flame to melt down the gold. He then tossed the melted remains into his treasure hoard. Treasure was treasure, after all, but what to do now? What if another lot decided they wanted to capture him? He could be constantly fending off these idiots if he wasn't careful. So he made a decision. The decision to leave.
He laid one last curse on his treasure hoard (misfortune to all who steal his treasure), and then left his cave. He ate whichever bodies were still edible, and rescued whatever clothing wasn't too burnt before turning the rest of them to ash. He knew he would have to take human form to avoid detection, and quickly transformed into a young man with silver hair and red eyes. He put on the clothing and one of the robes over the top of it, and left the clearing.
Once he started living among the humans he adopted the name "Gilbert Beilschmidt", and realised that he would need to earn money somehow in order to survive. He couldn't use his fire magic to earn him a living as that would reveal his true nature, and people preferred charms to curses so he turned to the only other option he had left: story-telling. It seemed like people couldn't get enough of his tales of knights, princesses and dragons, and he was welcomed wherever he went.
It was in one of those towns a few centuries later where he ran into a kid, or rather a kid ran into him as he was trying to snag an extra treat for free in addition to his lunch. He promptly lectured the kid on why he shouldn't bump into awesome people like himself. He expected the kid to run off after being lectured, but to his surprise the kid stayed. The two of them chatted for the rest of the afternoon, and it turned out the kid's name was Ludwig.
He wound up spending many happy afternoons with Ludwig over the next few years. Although Gilbert had decided long ago that he wouldn't form lasting relationships with anyone to be on the safe side; it seemed that Ludwig had somehow managed to break through all of Gilbert's emotional defences, and Gilbert started to feel oddly protective of the boy. All of this came to an end one day when Gilbert thought a magic user was taking a little too much interest in him, and his fear of being captured kicked in. That night he left that town and Ludwig behind without saying goodbye. He wanted to take the kid with him, but he didn't want anyone to harm Ludwig or use him as leverage against him so he decided against taking Ludwig with him in the end.
Gilbert resumed travelling around the world telling stories, but something felt odd about travelling on his own. He just didn't feel the same excitement he usually felt when seeing new countries and places, and couldn't put his finger on why until a bird landed on his head one day. It looked like a little canary, and Gilbert called him Gilbird. The little bird loved to build a nest in Gilbert's hair, and sleep on his head. Gilbert started to feel a lot less lonely after that, and enjoyed his travelling more. He also decided he wanted to see Ludwig again, and started searching for him as he travelled. He also hoped that he wasn't too late and that Ludwig would still be alive.
A few weeks after he got Gilbird he arrived in a larger town which had a black market for magical items and creatures. He should've only been able to sense his magic on his own belongings, but for some strange reason there seemed to be traces of his magic all over the black market! How could that be? He started walking around to wherever he felt his magic more strongly, and every trace of his magic he could sense seemed to be attached to the creatures for sale in those sections of the market. He took a real good look at the creature nearest to him that gave off a hint of dragon magic, and saw it was wearing a pair of earrings he'd removed from one of the sacrificed Princesses. He could've roared in fury over seeing his treasures being used to capture and control beings like him, but that would've given him away. Instead he left the market and that town, heading into the mountains.
Eventually he came across a very familiar clearing: his former home, to be exact. He carefully listened for anyone in the cave, and searched the clearing and its surroundings to see if he was alone. When he was satisfied that he was alone, he walked a couple of feet into the cave and started to use his fire magic to melt the rock and seal off the cave. He worked backwards until he reached the entrance of the cave listening for any signs of someone coming to interrupt him, but thankfully he heard none. He'd left Gilbird outside to keep watch, anyway. When he was done he made two decisions: One, to find Ludwig and make sure he was okay. He wasn't sure if the kid was human or not, and hoped he'd evaded capture if he wasn't. And two, to track down the pieces of his treasure that had been used to bind other creatures and try to reclaim it for himself.
Monster, how should I feel? Creatures lie here, looking through the window…
Roleplay Sample ►
"And the dragon roared "Who dares to enter my cave?" as the timid knight entered the cave." Gilbert said, and made the dragon's voice a loud rumbling sound. ""I-I do." said the timid knight as he walked further into the cave. "I have come here to rescue Princess Marina!" The knight heard his voice echo around the cave, and then it was replaced with a laugh that sounded like thunder. "And what makes you think you can defeat me, little knight?" The dragon's voice was a little quieter now, and the knight felt nervous all over again. "B-because." "Because what?" "Because I have the Amulet of Dummkopf!" The knight reached a turn in the cave, and peeked around it. He saw a large green dragon sitting in front of the largest pile of gold he had ever seen."

Gilbert paused for a moment, and saw that he had his audience's attention before continuing.

""The Amulet of Dummkopf, you say? Can't say I've heard of that one. Come in here and let me get a good look at you!" The dragon said, and the knight slowly walked around the corner. "Well?" The dragon roared. "If it's a fight you want, let's fight!" "First show me that the Princess is alive!" The knight said, and the dragon laughed again. "Very well! You're lucky I haven't eaten her yet. Girl! Get out here!" Then a very beautiful girl appeared from behind a pile of treasure. "My name's Marina, not Girl!" The girl stuck out her tongue at the dragon, and the knight drew his sword. "Now that I know she's alive, let's fight!" With that the dragon seemed to come alive, and flames came out of his mouth to try to scorch the knight where he stood. The knight used his shield to try to protect himself from the flames, and then tossed it aside to charge at the dragon directly! The dragon batted the knight away with his paw, and tried to flame him again. The knight dodged the flames, and stabbed the dragon's left leg with his sword. The dragon roared in pain, and-"

Gilbert suddenly noticed a librarian standing there pointing at the clock on the wall. It was nearly 11 o'clock which meant that Story Time was nearly over.

"What happened next, Mister?" One child said, and Gilbert grinned.

"The dragon went to bat the knight away again, but the Princess had somehow climbed onto his back, and hit him on the head with a golden club from his treasure hoard. "Run away, Mr. Knight!" she yelled and hit the dragon again. The dragon roared with pain, and tried to grab the woman on his back, but his front legs just couldn't bend that way. "But I'm supposed to be rescuing you!" The knight said, and the girl hit the dragon again. "Run before the dragon falls on you!" she yelled, and the knight obeyed. The Princess kept hitting the dragon and he moved all over the place to try to dislodge her, and slammed his back into the walls of the cave to try to squash her, but after a few more hits the dragon started to sway around, then fell to the ground. The Princess dropped the club and ran out of the cave to find the Knight. He was already sitting on his horse, and pulled her up so she was sitting behind him before they rode away from the cave. And they all lived happily ever after."

"But Mister! What happened to the dragon?" A child said.

"The dragon? He lived happily ever after too with all of his treasure!" Gilbert said.

"Does the dragon like being alone?" A second child said.

"Ja! He does!" Gilbert said, and a third voice piped up.

"But wouldn't he get lonely?" Gilbert was silent for a moment, and then he laughed.

"Of course not, kid!" Gilbert said. "Awesome dragons never get lonely! And that's all the time I have for today. Bye, kids!"

Gilbert watched as the parents came to collect their kids, and accepted their thanks for keeping them entertained. He walked out of the library, and Gilbird flew over from a nearby tree to land on his head. Awesome dragons never get lonely! he thought to himself as he walked away. If only that was true.
OOC Section
[/u][/size]
Alias ►
Jen
Time Zone ►
NZST (GMT+12)
Contact Method ►
AIM: toomuchsheep, PM through the forum, or PM on Chatango (SweetAsBro, AngelGilbird)
Favorite Pairings ►
Prussia is a new muse for me, so for the most part I'm open to Prussia/World at this point. The only condition on this is Prussia/Germany since I only ship it as siblings.
And for other characters mostly World/World aside from England/Former Colonies (again, another set of pairings I see just as family).
Pavlova-flavoured gelato is awesome~!
Profile coded by Neko. Lyrics are from Monster by Meg and Dia. You are not able to use this profile anywhere else.
[/blockquote]