Post by Ludwig Beilschmidt on May 31, 2011 9:41:15 GMT -5
His little whispers. Love me. Love me. That's all I ask for. Love me. Love me.



►►Ludwig Beilschmidt
[/u][/size]
Nation ►
Bundesrepublik Deutschland -- Germany
Human Name ►
Ludwig Beilschmidt
Age ►
Appears 20, although he is two decades older. Even for his species, he's rather young.
Gender ►
Male
Species ►
Bargeist: also known as a Barguest, Cu Sith, Kirk Grim, and a variety of other colorful local names, this monster is a type of shapeshifter. However, the form most often associated with it is that of a massive black dog, as large as a bear, with luminous eyes. Traditionally, they are the guardians of the dead, and can frequently be found around churchyards. While some of these monsters have taken to violence and attack humans without any motivation, others are more benevolent and are viewed as protectors of both the dead and the living. Nevertheless, the nighttime attacks and association with death has given the bargeist a bad reputation: to see one is generally regarded as an ill omen.
While bargeists live all over the European continent, notably, they seem to be the most well-known in England. The general rumor amongst the monsters seems to be that their British relatives are especially bad at staying hidden.
Description ►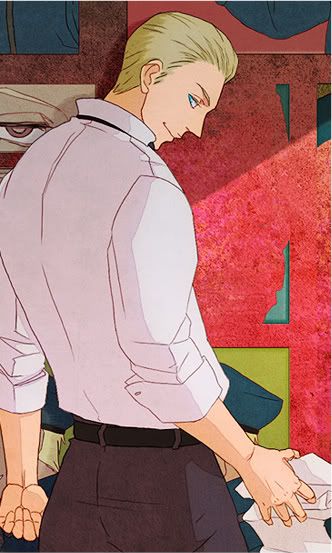 Ludwig is tall, at around 5'9", and has an athletic build that's just a little on the muscular side. He is a tidy dresser but prefers plain or dark-colored clothes; he keeps his blond hair combed back away from his forehead at almost all times. In his beast form, he is big even amongst his counterparts; he is easily almost as large as a cow or horse. The only features easy to discern are his eyes, which glow whitish-blue. He can transform whenever he wants to (and doesn't lose his human clothes in the process, thankfully), but the pitch-black color of his fur tends to stand out badly in the daytime, while when it is dark, it is much easier for him to hide.
He battered his tiny fist to feel something. Wondered what it's like to touch and feel something.
Likes ►
✔ Order and organization: he is a habitually tidy and responsible man.
✔ Quiet: while absolute quiet is a little creepy, Ludwig dislikes too much noise or obnoxious chatter
✔ Exercise: he likes running - on his own terms, not when he's being chased.
✔ German food: wurst is his favorite, but he'll happily eat any hearty dishes.
✔ Books: he is an avid reader of all kinds of books, although he loves fictional stories and how-to manuals the best.
✔ Beer: it's rather tasty.
✔ Overcast weather: the sun is alright, but he sunburns easily and in both his forms it's impossible to stay unnoticed for long.
✔ Machinery: he has always been impressed by how such complex things work.
✔ Churches: while he isn't very religious, the buildings themselves are quite peaceful.
✔ Cooking: it's a form of stress relief, and he's gotten good.
Dislikes ►
✘ Small talk: he's always frank when he wants to say something.
✘ Dirt: unavoidable in day-to-day living, but very annoying.
✘ Stress: it just doesn't feel good.
✘ Cowardice: running away from problems never solves anything.
✘ Disrespect: to him or to those who don't sincerely deserve it.
✘ Losing his temper: it does happen on occasion, and it's not pretty; he always regrets it later.
✘ Laziness: there is always something to be done.
✘ Solitude: a bit of a staple of his species, unfortunately, but that doesn't mean he has to like it.
✘ Flightiness: he's a rational and reasonable person, and has little patience for the silly.
✘ Thunderstorms: he was afraid of them when he was younger.
Strengths ►
✔ Intelligent -- Being the fan of books that he is, Ludwig has acquired a great deal of knowledge over the years. While he understands little to nothing about using magic, the world is based on more than just spells: there are the laws of physics and thermodynamics, different cultures and languages, law and governance, and so much more. While he wouldn't classify himself as a genius by any means, Ludwig has a vast collection of information he can access if he needs to.
✔ Clear-headed -- Ludwig is an emotional person, even if he tends not to show it. But what is more definite is that he doesn't think or act based on those emotions, instead relying on logic and reason to make a move. Even when under pressure, he can think quickly and decisively, and he remains calm in all but the most trying of circumstances.
✔ Tough -- Ludwig is very physically strong and fit, in both his human and his beast forms. Obviously the latter is a good deal stronger, but the former is much more maneuverable, what with the opposable thumbs. However, he also has good endurance, and a high tolerance for pain - in other words, even if he is wounded, to a certain degree he can continue to fight or run, and doesn't collapse in a sad heap upon being injured.
✔ Brave -- While Ludwig hasn't been caught or enslaved yet, both are still very much a threat, which makes his decision to occasionally patrol the streets after dark seem almost foolhardy. However, besides taking every precaution he can, he knows that there are plenty of creatures out there that aren't equipped with muscles or teeth or claws, and that as one of the fortunate ones, it is his responsibility to look out for them. By no means does Ludwig consider these actions heroic; in his mind, he is just trying to keep things fair. Above and beyond that, under the general umbrella of bravery, there are very few things that genuinely frighten him.
✔ Loyal -- This word seems to have lost a lot of its meaning recently, with masters demanding it from their unhappy slaves. And to a degree, this is true: real loyalty is hard to come by, and in regards to that, it is very, very hard to earn Ludwig's trust. While he can be naive, he's not stupid, and he keeps his guard up at all times. When Ludwig does trust someone, however, he trusts them absolutely. He will always be ready to help them out, and he'd never break a promise to that person, no matter what the cost.
Weaknesses ►
✘ Obsessive -- Ludwig likes to be in control of everything because as far as he is concerned, he is the only person who can do things properly. To be fair, it's not that other people are completely incapable (well, some of them are), but rather that Ludwig seems to have impossibly high standards - for himself and for others. He's actually a little bit of a perfectionist, and can be quite hard on himself when he doesn't accomplish what he wants to. Needless to say, he gets stressed rather easily.
✘ Naive -- Despite being what would qualify as middle age for a human, for his own species, Ludwig is quite young. In addition to that, for a long time, his life was quite sheltered. While he's worked hard to learn plenty of new information, there's still a lot he doesn't understand, and he finds this frustrating. Although it's a handicap, he does his best to ignore it.
✘ Pessimistic -- Even in a world of magic and monsters, Ludwig is an unrepentant realist: he doesn't dream about what should have or could have happened, but instead takes what he's been dealt and moves on. However, this has made him a bit cynical, and as reality seldom follows fairy tales, he has become quite the pessimist. Ludwig is good at understanding just how and why everything will go wrong. He doesn't prepare for failure, of course, but he'll be the first one to admit that the option is there and entirely probable.
✘ Unemotional -- Around all but his closest of friends, Ludwig maintains a stoic attitude, with one notable exception: anger. He'll snap easily at people for some seemingly irrelevant things, but the truth is, the anger is mostly a defense mechanism: when he's embarrassed, nervous, worried, upset, or any number of awkward emotions, Ludwig will throw off people's curiosity with irritation. Aside from that, however, he tends to keep his emotions bottled up, just another trait of how severely he tries to control himself. Additionally (and perhaps because of this) he isn't very good at reading the emotions of others, and can only understand the most obvious signs.
✘ Stubborn -- Ludwig hates the idea of failure, and refuses to give up on anything he deals with. Unfortunately, there are times when giving up would be the correct or smart thing to do, and of course Ludwig ignores all the warning signs and continues to persevere. Normally, this burns him out physically or mentally, but in some cases he ends up in a bigger mess than the one he was in originally.
Dreams ►
Find his "brother" -- Ludwig adopted Gilbert's last name as his own for a reason; the red-eyed youth had a lasting effect on his childhood and he at least wants to ensure the other is alive and well, if not reestablish some kind of friendship.
Acceptance -- This is a tall order, and Ludwig sincerely doubts that it will even be possible for a long time, what with how poorly humans treat anyone who isn't human. But for the time being, he would settle for making a few friends who wouldn't care if they knew he was some kind of supernatural creature.
See the world -- While he's read a lot of books, Ludwig has generally stayed in the same area for the entirety of his life. But the books have made him very curious about the rest of the world, and he wants to visit all of the places he's read about in person - and of course, see what else is there that didn't make it into the books.
Meet someone nice -- This is Ludwig's euphemistic way of expressing it, but truthfully, despite his somewhat pessimistic nature, he's tired of solitude. He's spent most of his existence alone, and while it can certainly be peaceful, it has made him feel more and more isolated and detached from the world. While he's not going to be presumptuous and hope for love explicitly, he would settle for a very close friend.
Fears ►
Being captured -- Through a combination of strength, cleverness, and pure luck, Ludwig has somehow avoided enslavement. But it's a constant threat, and he knows he can't count on being lucky in the future. He can't imagine a life without freedom.
Failure -- Next to capture, this is Ludwig's biggest fear. He is afraid of letting someone down, or of letting himself down - of making a promise and then, somehow or other, being unable to keep it. In all sincerity, he believes that there is a solution to everything, and that failure means that you gave up before you found it.
Death of a friend -- Ludwig doesn't have many friends, and he treasures the few that he's managed to make. Those people are family to him, and losing them would be very painful.
Being alone for good -- Being a bad omen associated with death doesn't exactly breed confidence. He fears that he will be shut out, unwanted and unneeded by everyone, and will have no choice but to go back to his churchyard for the remainder of his lifespan.
Personality ►
At first glance, Ludwig is a quiet, hardworking man who can't seem to take anything lightly. Whatever he is doing, one hundred percent of his focus goes into that task, and should he be interrupted, he is quick to admonish whoever bothered him. He runs his life strictly, following an invisible but precise schedule throughout the day. He doesn't smile, his clothes are always clean and tidy, and he leaves absolutely nothing up to chance.
But Ludwig gives off a very different impression than what his actual personality is. While he is a naturally serious person, he's not above humor or smiling - that is, when there is something good to smile about. When it comes to emotions, he won't burden other people with his own personal grievances, but he won't hesitate to be frank with them about other topics. He's not fond of gossip, and prefers to just get to the main point of a conversation, which can be intimidating to others. He doesn't mean to come off as rude or forceful, but he can't recognize that he has that effect on people.
It is true that he is a dedicated worker: he believes that if a job is worth doing, it's worth doing properly. But his life doesn't revolve around work. He enjoys his free time when he has it, and likes to spend it reading books or exploring around outside. However, he maintains a clear distinction between these two existences, and can become frustrated when other people don't follow his example. He has little patience for laziness, and just can't see the appeal of it when there are things to be done.
What he does have a surprising tolerance for, however, are mistakes. If some other person messes up, and if he believes they are honest in their apologies (those are necessary), Ludwig won't hesitate to give them a second chance, or a third chance, and so on. As he is still learning new things every day himself, he is more sympathetic to errors. And Ludwig isn't a mean person, despite his serious and unsmiling demeanor. He is genuinely kind, and won't refuse help to anyone who needs it. It is this sense of duty that leads him to look out for weaker creatures and urge them away from danger.
Having had a bit of a sheltered childhood, Ludwig is understandably a little shy, especially around people he doesn't know. But he makes an honest effort to improve all aspects of himself: his occasionally short temper, his tendency to get embarrassed easily, his desire to have control over every single part of his day. Ludwig does occasionally wear himself down through his own doing, and he knows this, but it is a hard habit to break. And being proud, he doesn't like accepting help from other people during those periods of exhaustion. Being the resilient man he is, however, Ludwig's spirit and energy always return, and he'll be back hard at work as though nothing difficult occurred.
One unusual trait that Ludwig possesses is a strong sense of justice. In dire circumstances, of course, instinct kicks in and he'll do whatever it takes to succeed. But on your average day, he adheres very strictly to the rules, and won't cheat or pull dirty tricks to get ahead. While it helps him lay low amongst the human crowd, he also simply believes that one should succeed based on merits and hard work, not by overstepping the rules as one sees fit. Although times are more desperate and dangerous now, and he's had to lie on more than one occasion, Ludwig will never go against his conscience unless he absolutely has to.
History ►
As far as Ludwig can tell, he has no immediate family, or if he does, he's never met them. The earliest memory he can recall is that of resting, wrapped in a thick black cloak, in the high grass of a graveyard. That particular place was part of the complex of an old magic school, a barely functioning relic of times past. At first, the professors did their best to shoo Ludwig out of the area, but when it became clear that the child had nowhere to go, a deal was struck: in exchange for daily chores, Ludwig would get meals and a place to sleep.
Eager to prove himself worthy, Ludwig happily did his chores every day and, if he had time, found someone else to help. The tactic obviously worked: impressed with his dedication, the professors allowed him more and more privileges, starting with the use of the school library. While the school's dwindling student body griped over their assignments, Ludwig spent hours there, happily struggling through the contents of a book. He eventually learned to read properly and, satisfied with this development, he was given a new task: running errands to and from the nearby town. It was on one of these missions when Ludwig quite literally ran into Gilbert.
He hadn't been watching where he was going and collided with the legs of the elder (who, Ludwig realized much later, had been trying to pilfer some sort of treat from a market stall). He had promptly gotten a lecture from the red-eyed youth, and, still not clear about who to take seriously or not, had hung onto every word, nodding fiercely when he was told it wasn't good to bother 'awesome people'. Having found a willing audience in Ludwig, Gilbert passed the rest of the afternoon with the boy, happily chatting away, and Ludwig ran back to the school that evening in a good mood.
From that point on, whenever he could, Ludwig would seek out Gilbert on his errands, in hopes of more stories or just mindless chatter; the students and professors at the school were much older, and he hadn't been able to befriend anyone else. Despite having quite different personalities, the two of them got along well: Gilbert taught Ludwig how to fight, and Ludwig tried to teach Gilbert that fighting was a bad way to resolve conflicts. When, after a few years of this arrangement, Gilbert suddenly vanished from the town, Ludwig was crushed. He knew the other hadn't died (he still spent plenty of time in the graveyard), but as to where he'd gone, he had no idea. Having already adopted Gilbert as his brother, Ludwig decided that he'd make an effort to find him some day.
But times were quickly changing. While Ludwig had always known that he wasn't human, as he got older, the fact slowly became more and more obvious to those at the school. He just didn't
act
the way a human should, and by the time Ludwig had gained this knowledge, it was too late. Ostensibly under the reason of "financial difficulties", Ludwig was sent away. As he understood it, the school went bankrupt a little while later, and he sincerely hopes this wasn't some fault of his.
Living on his own was a struggle at first, but thankfully Ludwig didn't need a house; he could transform and sleep outside if he had to. Slowly, he worked his way towards normalcy, moving from town to town and picking up odd jobs; it helped that he had a natural talent for fixing things. Over the course of the years, he learned and adapted as best he could, although some of his naive habits proved hard to break. Although he kept on the search for Gilbert, with no clues at all to follow, Ludwig decided he'd have to just keep looking until he found some sort of hint.
But moving around constantly was getting suspicious, and he was eventually forced to settle for a little while in one place, taking up work at a book shop in one of the larger cities. He managed to blend in well, although he quickly grew frustrated with the obviously poor treatment afforded to magical creatures. Against his better judgement, he has taken to patrolling some of the outlying streets at night, scaring off any humans who seem to have bad intentions. He still keeps an eye out for Gilbert, although as it seems he will be in the city for a long time, he has slowly gotten used to the place.
Monster, how should I feel? Creatures lie here, looking through the window…
Roleplay Sample ►
(From a different RP)

Unlike so many others, Germany didn't wear his faith as openly as a badge or medal. The Eisernes Kreuz strung on a silver chain around his neck was a military decoration, not a religious symbol, and even that stayed tucked securely under his shirt. He celebrated holidays quietly, only answering about his beliefs if outright asked; to Germany, religion was a private matter, and what people believed in shouldn't factor into how others judged them.

Yet sometimes, the stoic and rational nation found himself seeking out a church. He had attended often as a child with his brother, and something familiar and comforting still lingered in the sanctified buildings despite all the times Germany had seen them burnt or bombed. Everyone lowered their voices in a church, and only the creak of the doors or the murmuring of prayers broke through the cool air. Perhaps selfishly, Germany hadn't come to join those voices today, though that wasn't to say he never did. He wasn't seeking the help of God, no -- he merely wanted a quiet place to think.

One of the doors to the building already hung half-ajar on its hinges, and after glancing around surreptitiously to ensure he was alone, Germany slipped through the gap into the semi-darkness within. Inclining his head briefly in respect to the statue on the far wall, he walked slowly down the aisle, examining the surroundings. It took the nation a moment to realize he wasn't completely alone: a woman knelt in prayer at the church altar, murmuring in a language he didn't understand. Her voice sounded familiar, but not wanting to interrupt, Germany selected a random pew to his right and sat down. The old wooden bench gave a quiet squeal of protest and Germany winced, but the woman at the altar didn't seem to have noticed and he relaxed a little in the uncomfortable seat.

If he were more religious, he realized, he would be praying for help or success for his people. But prayers offered him little comfort; his time was better spent planning, and at least the government officials would be hesitant to try and interrupt him here. Eyes half-focused on a distant rack of candles, some lit, some dark, Germany lapsed into thought, and despite his purpose there, some habits couldn't be broken: his hands lay clasped politely in his lap.
OOC Section
[/u][/size]
Alias ►
Ruko
Time Zone ►
GMT +9
Contact Method ►
PM or no.white.flags@hotmail.com
Favorite Pairings ►
Ohboy! Well... I like GerFrance, GerBelgium, and GerIta the best, although I'm open to messing around with pretty much anyone. While there are a few specific pairings I don't like at all (looking at you, Spamano), I do like AusHun, AmericaBelarus, and... if I find it convincing, I will like it, no joke, so World x World.
This will sound weird, but roasted sesame seed flavor is delicious, although because it is gray, it scares some people. In that case, I'd have to go with vanilla!
If some parts don't make sense I will fix them; I am very sleepy.
Profile coded by Neko. Lyrics are from Monster by Meg and Dia. You are not able to use this profile anywhere else.
[/blockquote]